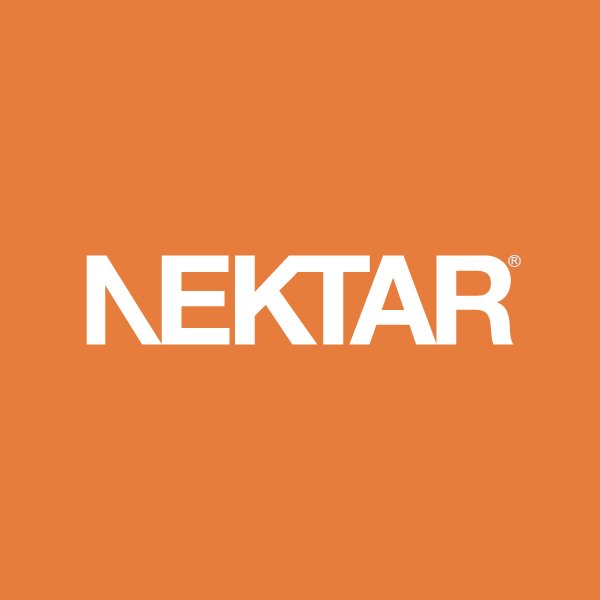 Nektar Therapeutics
NKTR
Dividend Summary


There have not been any declared dividends recently.
Latest Dividends
| | | |
| --- | --- | --- |
| Status | – | – |
| Type | – | – |
| Per share | – | – |
| Declaration date | – | – |
| Ex-div date | – | – |
| Pay date | – | – |
Enter the number of Nektar Therapeutics shares you hold and we'll calculate your dividend payments:
Free Email Notification
Sign up for Nektar Therapeutics and we'll email you the dividend information when they declare.
Add Nektar Therapeutics to receive free notifications when they declare their dividends.
Your account is set up to receive Nektar Therapeutics notifications.
The table below shows the full dividend history for Nektar Therapeutics
Status
Type
Decl. date
Ex-div date
Pay date
Decl. Currency
Forecast amount
Decl. amount
Accuracy
There are no Nektar Therapeutics dividends.
Year
Amount
Change
2006
0.0c
—
2007
0.0c
0%
2008
0.0c
0%
2009
0.0c
0%
2010
0.0c
0%
2011
0.0c
0%
2012
0.0c
0%
2013
0.0c
0%
2014
0.0c
0%
2015
0.0c
0%
2016
0.0c
0%
2017
0.0c
0%
2018
0.0c
0%
2019
0.0c
0%
2020
0.0c
0%
2021
0.0c
0%
2022
0.0c
0%
2023
Sign Up Required
Nektar Therapeutics Optimized Dividend Chart
The chart below shows the optimized dividends for this security over a rolling 12-month period.
Dividend Yield Today

0.0%

Optimized Yield

52 Week High

0.0% on 27 March 2022

52 Week Low

0.0% on 27 March 2022

Next Ex-Div-Date Countdown
About Nektar Therapeutics
Nektar Therapeutics, incorporated on June 3, 1998, is a biopharmaceutical company that discovers and develops medicines in areas of high unmet medical need. The Company's research and development pipeline of new investigational drugs includes treatments for cancer, auto-immune disease and chronic pain. It leverages its chemistry platform to discover and design new drug candidates. These drug candidates utilize its polymer conjugate technology platforms, which are designed to enable the development of new molecular entities that target known mechanisms of action. Its programs include Immuno-oncology (I-O), Immunology, Pain-NKTR-181 and Oncology-ONZEALD.
In the area of I-O, it is developing medicines that target biological pathways, which stimulate and sustain the body's immune response in order to fight cancer. It is developing medicines designed to directly or indirectly modulate the activity of key immune cells, such as cytotoxic T cells and Natural Killer (NK) cells, to increase their numbers and improve their function to recognize and attack cancer cells. NKTR-214, its lead I-O candidate, is a biologic with biased signaling through one of the Interleukin (IL)-2 receptor subunits (CD 122) that can stimulate proliferation and growth of tumor-killing immune cells in the tumor micro-environment and increase expression of programmed death (PD)-1 on these immune cells. A Phase I trial for NKTR-214 as a single-agent in cancer patients with solid tumors has completed recruitment. NKTR-262 is a small molecule agonist that targets toll-like receptors (TLRs) found on innate immune cells in the body. NKTR-262 is designed to stimulate the innate immune system and promote maturation and activation of antigen-presenting cells (APC), such as dendritic cells, which are critical to induce the body's adaptive immunity and create antigen-specific cytotoxic T cells. NKTR-262 is being developed as a single intra-tumoral injection in combination with systemic NKTR-214 in order to induce an abscopal response and achieve the goal of complete tumor regression in cancer patients treated with both therapies. NKTR-262 is advancing through preclinical development.
NKTR-255 is a biologic that targets the interleukin-15 pathway in order to activate the body's innate and adaptive immunity. Signaling of the IL-15 pathway induces the proliferation and growth of cluster of differentiation (CD8) memory T cells so the body's immune system retains the ability to identify cancer cells if they re-grow in the body. The Company is developing a biologic, NKTR-358, which is designed to correct the underlying immune system imbalance in the body, which occurs in patients with auto-immune disease. The breakdown of mechanisms assuring recognition of self and non-self is what underlies all autoimmune diseases. A failure of the body's self-tolerance mechanisms is known to result from pathogenic auto reactive T lymphocytes.
By increasing the number of T regulatory cells (which are specific immune cells in the body that modulate the immune system and prevent auto-immune disease by maintaining self-tolerance), these pathogenic auto reactive T cells can be reduced and the proper balance of effector and regulatory T cells can be achieved to restore the body's self-tolerance mechanisms. There is consistent evidence that suboptimal T regulatory cell numbers and their lack of activity play a significant role in a myriad of autoimmune diseases. NKTR-358 is designed to optimally target the IL-2 receptor complex in order to stimulate proliferation and growth of T regulatory cells. NKTR-358 is being developed as a once or twice monthly self-administered injection for a number of auto-immune diseases. NKTR-181 is a mu-opioid analgesic drug candidate for chronic pain conditions. NKTR-181 is in Phase III clinical development. ONZEALD (also known as NKTR-102, etirinotecan pegol) is the Company's topoisomerase I inhibitor drug candidate. ADYNOVATE is an extended half-life recombinant factor VIII rFVIII treatment for Hemophilia A based on ADVATE (Antihemaphilic Factor (Recombinant)). Hemophilia A, also called factor VIII (FVIII) deficiency or classic hemophilia, is a genetic disorder caused by missing or defective factor VIII, a clotting protein.
The Company competes with Biogen Idec Inc., Savient Pharmaceuticals, Inc., Dr. Reddy's Laboratories, Ltd., Mountain View Pharmaceuticals, Inc., SunBio Corporation, NOF Corporation, Novo Nordisk A/S, Sucampo Pharmaceuticals, Takeda, Valeant Pharmaceuticals, Ltd, Bristol-Myers Squibb Company, Eisai, Inc., Roche Holding Group, GlaxoSmithKline plc, Pfizer, Inc., Eli Lilly & Co. and Sanofi Aventis S.A.
Sector

Pharmaceuticals & Biotechnology

Country

United States

Share Price

$0.72 (yesterday's closing price)

Shares in Issue

189 million

Market Cap

$136mn

CADI

0

Market Indices

none