E TRADE Financial Corp.

(

ETFC

)

E*Trade Financial Corporation, incorporated on September 4, 2003, is a financial services company. The Company provides online brokerage and related products and services primarily to individual retail investors under the brand E*TRADE Financial. The Company also provides investor-focused banking products, primarily sweep deposits, to retail investors. It provides its services to customers through its digital platforms and network of industry-licensed customer service representatives and Financial Consultants, over the phone and by e-mail. It operates federally chartered savings banks with the primary purpose of maximizing the value of deposits generated through its brokerage business. The Company's hybrid service delivery model is delivered through various digital platforms: E*TRADE and OptionsHouse products. It offers trading applications for smartphones, tablets and watches, which manages accounts and offers stock and portfolio alerts. Its active trading platform is a software-based trading application that offers trading tools, idea generation and analysis, and advanced portfolio and market tracking. Its digital platforms are complemented by its offline channels, which include its network of customer service representatives and financial consultants and its round the clock customer service available via phone, e-mail and online.

The Company's brokerage business is organized into three product areas: Trading, Investing, and Corporate Services. Additionally, it offers banking and cash management capabilities, including Federal Deposit Insurance Corporation (FDIC)-insured deposit accounts, which are fully integrated into customer brokerage accounts. Among other features, customers have access to debit cards with automated teller machine (ATM) fee refunds, online and mobile bill pay, mobile check deposits and Apple Pay. Its Online Service Center serves as a portal where customers can request services on their accounts and obtain answers to frequently asked questions. The online service center also provides customers with the ability to send a secure message and/or engage in live chat with one of its customer service representatives. In addition, it offers its Investor Education Center, providing customers with access to a variety of live and on-demand educational content and courses.

Trading

The Company's Trading products deliver automated trade order placement and execution services. It offers its customers a range of investment vehicles, including the United States equities, exchange-traded funds (ETFs), options, bonds, futures, American depositary receipts (ADRs), and non-proprietary mutual funds. Margin accounts are also available to qualified customers, enabling them to borrow against their securities. It provides margin solutions, including calculators and requirement lookup and analysis tools, helping customers strategize, plan, and execute margin trades.

The Company markets trading products and services to self-directed investors and active traders. Products and services are delivered through Web, desktop, and mobile digital channels. Trading and investing tools are supported by guidance, including fixed income, options, and futures specialists available on-call for customers. Other tools and resources include independent research and analytics, live and on-demand education, and strategies, trading ideas, and screeners for major asset classes.

Investing

The Company's Investing products help investors build wealth and address their long-term investing needs. Products and services include individual retirement accounts (IRAs), including Roth IRAs, virtual advice through its Adaptive Portfolio product, managed investment portfolios, unified managed accounts, and separately managed accounts. Investors are provided a range of digital tools through Web and mobile channels to address their investing needs. These include resource centers, allocation tools, educational, and editorial content. The Company also offers guidance through a team of licensed Financial Consultants and Chartered Retirement Planning Counselors.

Corporate Services

The Company's Corporate Services channel provides stock plan administration services for both public and private companies. Through its platform, Equity Edge Online, the Company offers management of employee stock option plans, employee stock purchase plans, and restricted stock plans with fully-automated stock plan administration, as well as accounting, reporting, and scenario modeling tools. The integrated stock plan solutions include multi-currency settlement and delivery, disbursement in international countries, and streamlined tax calculation. The Company's digital platforms allow participants in corporate client stock plans to view and manage their holdings. Additionally, participants have access to educational tools, restricted stock sales support, and dedicated stock plan service representatives.
Fundamentals
🇺🇸

United States

$45.81 yesterday's close
245m

$11.2bn

8.4
1
Optimized Dividends
52 Week High

2.31%

15 August 2019

52 Week Low

1.29%

20 November 2019

Next Ex-Div-Date Countdown
Annual Dividends
Year
Amount
Change
2006
0.0c
2007
0.0c
0%
2008
0.0c
0%
2009
0.0c
0%
2010
0.0c
0%
2011
0.0c
0%
2012
0.0c
0%
2013
0.0c
0%
2014
0.0c
0%
2015
0.0c
0%
2016
0.0c
0%
2017
0.0c
0%
2018
28.0c
100%
2019
Login required
2020
Login required
Dividends
| Ex-Div Date | Pay Date | Year | Type | Frequency | Status | Amount |
| --- | --- | --- | --- | --- | --- | --- |
| 29 Oct 2018 | 15 Nov 2018 | 2018 | Interim | Quarterly | Paid | 14c |
| 31 Jan 2019 | 15 Feb 2019 | 2018 | Final | Quarterly | Paid | 14c |
| 10 May 2019 | 20 May 2019 | 2019 | Interim | Quarterly | Paid | 14c |
| 16 Aug 2019 | 26 Aug 2019 | 2019 | Interim | Quarterly | Paid | 14c |
| 07 Nov 2019 | 15 Nov 2019 | 2019 | Interim | Quarterly | Paid | 14c |
| Login | Login | 2019 | Interim | Quarterly | Forecast | Login |
| Login | Login | 2020 | Interim | Quarterly | Forecast | Login |
| Login | Login | 2020 | Interim | Quarterly | Forecast | Login |
| Login | Login | 2020 | Interim | Quarterly | Forecast | Login |
| Login | Login | 2020 | Interim | Quarterly | Forecast | Login |
| Login | Login | 2021 | Interim | Quarterly | Forecast | Login |
| Login | Login | 2021 | Interim | Quarterly | Forecast | Login |
E TRADE Financial Corp. optimized dividend - 12 month history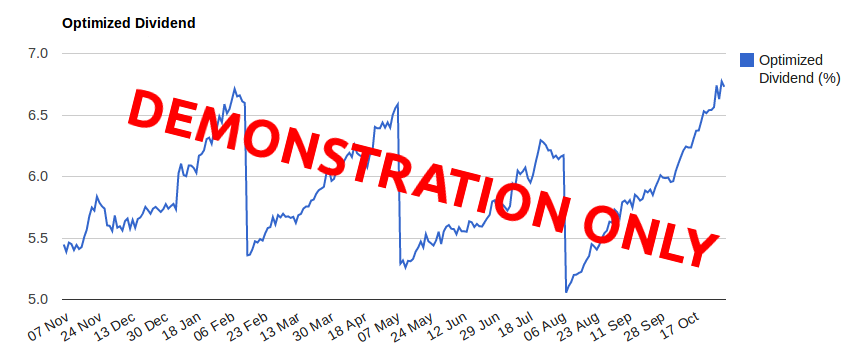 E TRADE Financial Corp. share price - 12 month history
You're currently viewing outdated and/or artificial data.
Try the real thing now:
You're in Demo Mode
You currently don't have access this feature, however you can preview the functionality.
This is a fully-functional demo intended to showcase the usefulness of this product using old data.
By proceeding you acknowledge that shown here is old data for demonstration purposes only.
Get the real data
To immediately activate your free account and see the live data you can log in with Facebook or LinkedIn: