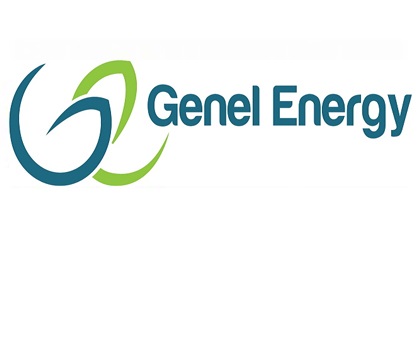 Genel Energy Plc

(

GENL

) Dividends
Dividend Summary:
The
next Genel Energy Plc dividend
will go ex
in 2 months
for
10c
and will be paid
in 3 months
.
The
previous Genel Energy Plc dividend
was
5c
and it went ex
4 months ago
and it was paid
3 months ago
.
There are typically 2 dividends per year (excluding specials), and the dividend cover is approximately 2.3.
Exchange:
London Stock Exchange
Previous Dividend
Next Dividend
Status:
Paid
Declared
Type:
Interim
Final
Per Share:
3.816p

(5c)

Sign Up Required
Ex-div Date:
Thu 12 Dec 2019
Thu 28 May 2020
Pay Date:
Wed 08 Jan 2020
Mon 29 Jun 2020
Your Holding:
100 shares
100 shares
Your Payment:
£3.82 ($5.00)
£8.02 ($10.00)
Dividend Payment Calculator
Enter the number of shares you hold:
Free dividend email notifications
Receive an email whenever Genel Energy Plc declares a dividend:
No spam guaranteed. Unsubscribe at any time.
Declared and Forecast Genel Energy Plc Dividends
Ex-Div Date
Pay Date
Type
Amount
Currency
Status
23 May 2019
24 Jun 2019
Final
7.848p

(10c)

USD
Paid
12 Dec 2019
08 Jan 2020
Interim
3.816p

(5c)

USD
Paid
28 May 2020
29 Jun 2020
Final
Sign Up Required
USD
Declared
10 Dec 2020
06 Jan 2021
Interim
Sign Up Required
USD
Forecast
20 May 2021
21 Jun 2021
Final
Sign Up Required
USD
Forecast
09 Dec 2021
05 Jan 2022
Interim
Sign Up Required
USD
Forecast
19 May 2022
20 Jun 2022
Final
Sign Up Required
USD
Forecast
How accurate are our Genel Energy Plc forecasts?
Prediction Date
Dividend Date
Forecast Amount
Actual Amount
Accuracy
06 Aug 2019
28 May 2020
11c
10c
95% 😃
Average Genel Energy Plc Forecast Accuracy
95% 😃
About Genel Energy Plc
Genel Energy Plc is a holding company. The Company is engaged in the business of oil and gas exploration and production in the Kurdistan Region of Iraq (KRI). The Company's segments include Kurdistan and Africa. The Company has interests in approximately two producing fields in the Kurdistan Region of Iraq, Taq Taq and Tawke, with access to local and international markets. Its fields have an estimated gross proven and probable (2P) reserves of approximately 800 million barrels of oil, and gross proven, probable and possible reserves of approximately 1.2 billion barrels of oil. Its Taq Taq license area is located approximately 60 kilometers northeast of the Kirkuk oil field and the adjacent city of Kirkuk, over 85 kilometers southeast of the city of Erbil and over 120 kilometers northwest of the city of Sulaimaniah. The gross area of the Taq Taq license area is approximately 950 square kilometers. Its Bina Bawi field is located approximately 300 kilometers from Turkey.
Fundamentals
Annual Dividends
Year
Amount
Change
2006
0.0p
2007
0.0p
0%
2008
0.0p
0%
2009
0.0p
0%
2010
0.0p
0%
2011
0.0p
0%
2012
0.0p
0%
2013
0.0p
0%
2014
0.0p
0%
2015
0.0p
0%
2016
0.0p
0%
2017
0.0p
0%
2018
7.848p
100%
2019
11.8335p
50.8%
2020
Login required
2021
Login required
Genel Energy Plc optimized dividend - 12 month history