Arista Networks Inc

(

ANET

)

Arista Networks, Inc., incorporated on December 2, 2011, is a supplier of cloud networking solutions that use software innovations to address the needs of Internet companies, cloud service providers and data centers for enterprise support. The Company develops, markets and sells cloud networking solutions, which consist of its Gigabit Ethernet switches and related software. The Company's cloud networking solutions consist of its Extensible Operating System (EOS), a set of network applications and its Ethernet switching and routing platforms. The programmability of EOS has allowed the Company to create a set of software applications that address the requirements of cloud networking, including workflow automation, network visibility and analytics, and has also allowed it to integrate with a range of third-party applications for virtualization, management, automation, orchestration and network services. EOS supports cloud and virtualization solutions, including VMware NSX, Microsoft System Center, OpenStack and other cloud management frameworks.

The Company's EOS allows it to prevent network outages in deployments of its cloud networking solutions. The Company also offers EOS+, a software platform for network programmability and automation. The Company sells its products through both its direct sales force and its channel partners. Its customers span a range of industries and include large Internet companies, service providers, financial services organizations, government agencies, media and entertainment companies and others. The Company delivers its solutions through its 10/25/40/50/100 Gigabit Ethernet switches and routers optimized for data center networks. Its EOS software offers programmable interfaces throughout various levels of its software. In addition, it supports a range of software-defined network controllers through its OpenFlow and DirectFlow interfaces.

The Company's EOS software enables enterprises to provision networking resources. The Company also supports Ansible, CFEngine, Chef, Puppet, virtual network orchestration applications and third-party management tools. CloudVision, a network-wide approach for workload orchestration and workflow automation delivers a turnkey solution for cloud networking. Its EOS software provides a set of tools and applications that monitor, detect and notify network managers when network issues arise, delivering real-time data to third-party management applications, including Corvil, ExtraHop, Riverbed and Splunk to provide detailed application visibility.

The Company's telemetry applications include VM Tracer, which provides visibility down to the virtual machine level, Path Tracer, which detects errors in provisioned network paths, MapReduce Tracer, which monitors and optimizes the performance of Hadoop workloads, and Health Tracer, which monitors infrastructure resiliency. The Company's network visibility applications provide real-time insight into the status of the network. They include LANZ, which monitors latency, and DANZ 2017, a set of features available in add-on network visibility devices, which provides traffic monitoring with flow analysis and timestamps, and the ability to perform tap aggregation for reporting and analysis. Macro-Segmentation Services (MSS) is its service enabled through Arista CloudVision.

The Company competes with Cisco Systems, Inc., Brocade Communications Systems, Dell, IBM, Hewlett Packard Enterprises, Juniper Networks and Broadcom.
Fundamentals
🇺🇸

United States

$222.72 yesterday's close
77m

$17.1bn

0
Optimized Dividends
52 Week High

0.0%

22 January 2020

52 Week Low

0.0%

22 January 2020

Next Ex-Div-Date Countdown
Annual Dividends
Year
Amount
Change
2006
0.0c
2007
0.0c
0%
2008
0.0c
0%
2009
0.0c
0%
2010
0.0c
0%
2011
0.0c
0%
2012
0.0c
0%
2013
0.0c
0%
2014
0.0c
0%
2015
0.0c
0%
2016
0.0c
0%
2017
0.0c
0%
2018
0.0c
0%
2019
0.0c
0%
2020
Login required
Dividends
| Ex-Div Date | Pay Date | Year | Type | Frequency | Status | Amount |
| --- | --- | --- | --- | --- | --- | --- |
Arista Networks Inc optimized dividend - 12 month history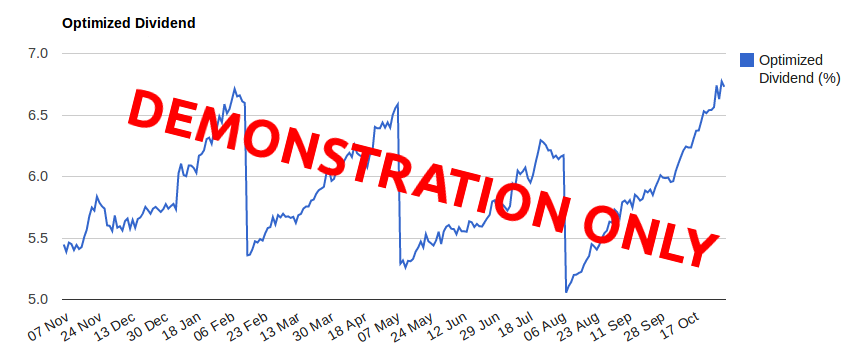 Arista Networks Inc share price - 12 month history
You're currently viewing outdated and/or artificial data.
Try the real thing now:
You're in Demo Mode
You currently don't have access this feature, however you can preview the functionality.
This is a fully-functional demo intended to showcase the usefulness of this product using old data.
By proceeding you acknowledge that shown here is old data for demonstration purposes only.
Get the real data
To immediately activate your free account and see the live data you can log in with Facebook or LinkedIn: