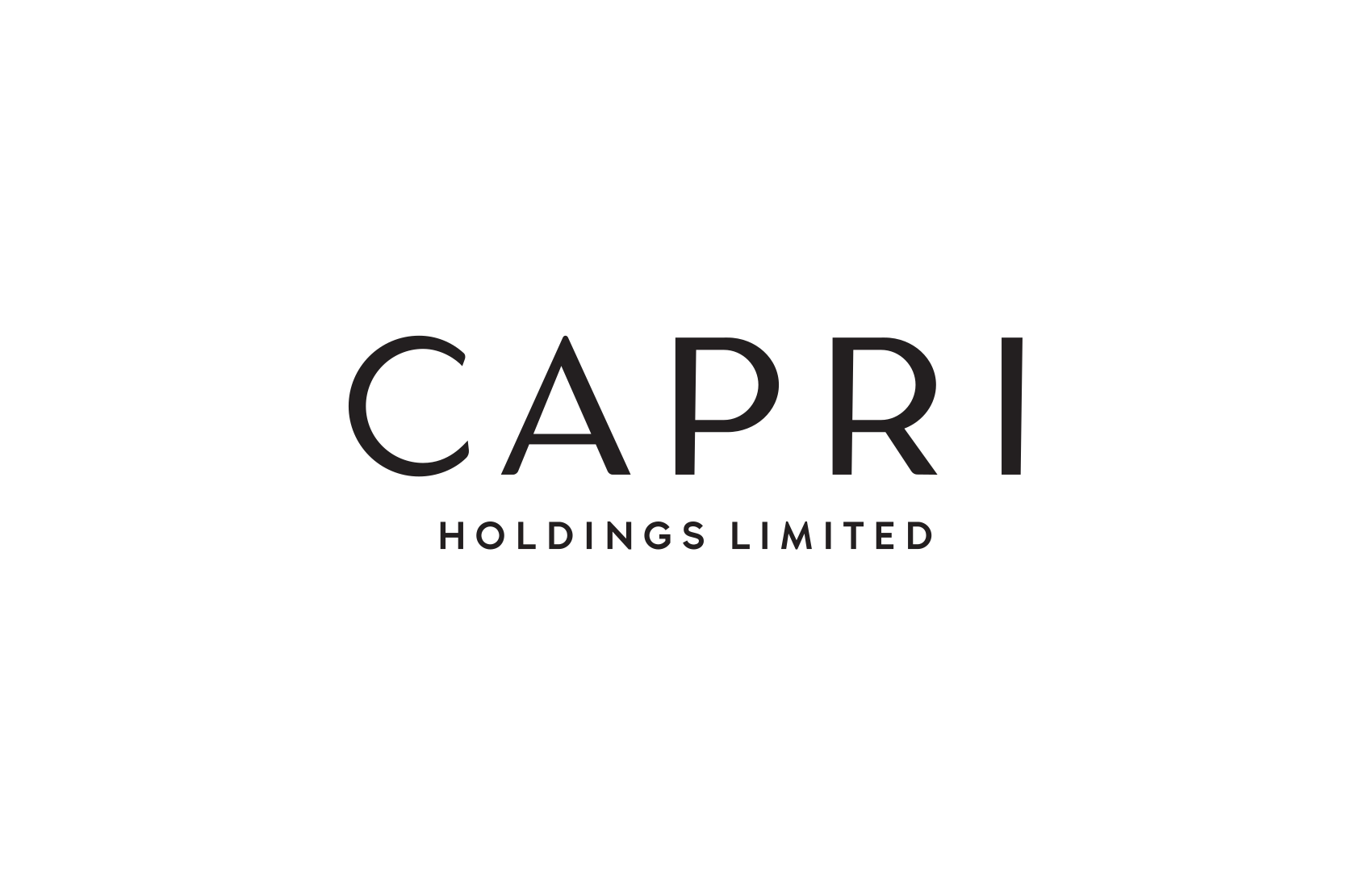 Capri Holdings Ltd

(

CPRI

) Dividends
Dividend Summary:


There have not been any declared dividends recently.
Exchange:
New York Stock Exchange
| | | |
| --- | --- | --- |
| Status: | – | – |
| Type: | – | – |
| Per Share: | – | – |
| Ex-div Date: | – | – |
| Pay Date: | – | – |
| Your Holding: | 100 shares | 100 shares |
| Your Payment: | – | – |
Dividend Payment Calculator
Enter the number of shares you hold:
Free dividend email notifications
Receive an email whenever Capri Holdings Ltd declares a dividend:
No spam guaranteed. Unsubscribe at any time.
Declared and Forecast Capri Holdings Ltd Dividends
Ex-Div Date
Pay Date
Type
Amount
Currency
Status
There are no Capri Holdings Ltd dividends.
About Capri Holdings Ltd
Capri Holdings Limited, formerly Michael Kors Holdings Limited, incorporated on December 13, 2002, is a designer, marketer, distributor and retailer of branded women's apparel and accessories and men's apparel bearing the Michael Kors tradename and related trademarks MICHAEL KORS, MICHAEL MICHAEL KORS, and various other related trademarks and logos. The Company operates through three segments: retail, wholesale and licensing. The Retail operations consist of collection stores and lifestyle stores, including concessions and outlet stores, located primarily in the Americas (the United States, Canada and Latin America), Europe and Asia, as well as e-commerce. Wholesale revenues are principally derived from major department and specialty stores located throughout the Americas, Europe and Asia. The Company licenses its trademarks on products, such as fragrances, beauty, eyewear, leather goods, jewelry, watches, coats, men's suits, swimwear, furs and ties, as well as through geographic licenses.
The Company's products sold through the Retail segment include women's apparel, accessories (which include handbags and small leather goods such as wallets), men's apparel, footwear and licensed products, such as watches, jewelry, fragrances and beauty, and eyewear. Products sold through the Wholesale segment include accessories (which include handbags and small leather goods such as wallets), footwear and women's and men's apparel. It also has wholesale arrangements pursuant to which it sells products to certain of its licensees, including its licensees in Asia. The Licensing segment includes royalties earned on licensed products and use of the Company's trademarks, and rights granted to third parties for the right to sell the Company's products in certain geographic regions, such as the Middle East, Eastern Europe, throughout all of Asia (excluding Japan), as well as Australia.
The Company offers approximately three primary collections, including the Michael Kors Collection luxury line, the MICHAEL Michael Kors accessible luxury line and the Michael Kors Mens line. Michael Kors Collection is carried in many of its retail stores, as well as in the luxury department stores in the world, including, among others, Bergdorf Goodman, Saks Fifth Avenue, Neiman Marcus, Holt Renfrew, Harrods, Harvey Nichols and Printemps. MICHAEL Michael Kors is carried in all of its lifestyle stores, as well as department stores throughout the world, including, among others, Bloomingdale's, Nordstrom, Macy's, Harrods, Harvey Nichols, Galeries Lafayette, Lotte, Hyundai, Isetan and Lane Crawford. Michael Kors Collection includes ready-to-wear and accessories, such as handbags, footwear and small leather goods, many of which are made from leathers and other exotic skins. MICHAEL Michael Kors focuses on women's accessories, primarily handbags, as well as footwear and apparel for women. MICHAEL Michael Kors offers handbags; small leather goods, such as clutches, wallets, wristlets and cosmetic cases; footwear, and apparel, including dresses, tops, jeans, pants, skirts, shorts and outerwear. Michael Kors Mens is a collection of men's ready-to-wear, accessories, and footwear with an American style. Its licensed products include watches, jewelry, eyewear, and fragrances and beauty.
Fundamentals
Sector

Personal Goods

Country

🇺🇸 United States

Share Price

$17.69 today's close

Shares in Issue

151m

Market Indices

S&P 500
Annual Dividends
Year
Amount
Change
2006
0.0c
2007
0.0c
0%
2008
0.0c
0%
2009
0.0c
0%
2010
0.0c
0%
2011
0.0c
0%
2012
0.0c
0%
2013
0.0c
0%
2014
0.0c
0%
2015
0.0c
0%
2016
0.0c
0%
2017
0.0c
0%
2018
0.0c
0%
2019
0.0c
0%
2020
Login required
Dividends
| Ex-Div Date | Pay Date | Year | Type | Frequency | Status | Amount |
| --- | --- | --- | --- | --- | --- | --- |
Capri Holdings Ltd optimized dividend - 12 month history