Dow Inc

(

DOW

)

Dow Inc., incorporated on August 30, 2018, is a material science company that is combining science and technology to develop solutions. The Company's portfolio comprised of six global business units, organized into three operating segments: Performance Materials & Coatings, Industrial Intermediates & Infrastructure and Packaging & Specialty Plastics. Its products serve different applications, including coatings, home and personal care, durable goods, adhesives and sealants, and food and specialty packaging. In addition, the Company operates a global commercial and development network that features eight research and development (R&D) centers.

Performance Materials & Coatings

Performance Materials & Coatings includes franchises that deliver a wide array of solutions into consumer and infrastructure end-markets. The segment consists of two global businesses: Coatings & Performance Monomers and Consumer Solutions. These businesses primarily utilize Dow's acrylics, cellulosics and silicone-based technology platforms to serve the needs of the architectural and industrial coatings, home care and personal care end-markets.

Industrial Intermediates & Infrastructure

Industrial Intermediates & Infrastructure consists of two customer-centric global businesses Industrial Solutions and Polyurethanes & CAV that develop important intermediate chemicals that are essential to manufacturing processes, as well as downstream, customized materials and formulations that use advanced development technologies. These businesses primarily produce and market ethylene oxide, propylene oxide derivatives, cellulose ethers, redispersible latex powders and acrylic emulsions that are aligned to market segments as diverse as appliances, coatings, infrastructure, oil and gas, and building and construction.

Packaging & Specialty Plastics

Packaging & Specialty Plastics consists of two integrated global businesses: Hydrocarbons & Energy and Packaging and Specialty Plastics. It delivers sustainable plastics to customers in the food and specialty packaging; industrial and consumer packaging; health and hygiene; caps, closures and pipe applications; consumer durables, and infrastructure.
Fundamentals
🇺🇸

United States

$53.22 yesterday's close
749m

$39.9bn

0
Optimized Dividends
52 Week High

10.15%

26 August 2019

52 Week Low

5.4%

27 November 2019

Next Ex-Div-Date Countdown
Annual Dividends
Year
Amount
Change
2006
0.0c
2007
0.0c
0%
2008
0.0c
0%
2009
0.0c
0%
2010
0.0c
0%
2011
0.0c
0%
2012
0.0c
0%
2013
0.0c
0%
2014
0.0c
0%
2015
0.0c
0%
2016
0.0c
0%
2017
0.0c
0%
2018
0.0c
0%
2019
Login required
2020
Login required
2021
Login required
Dow Inc optimized dividend - 12 month history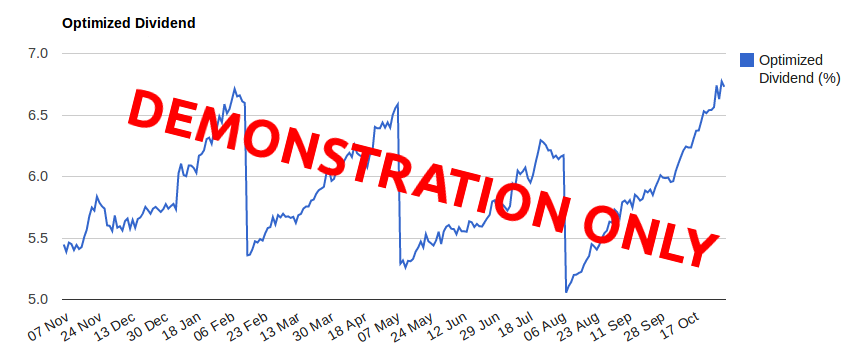 Dow Inc share price - 12 month history
You're currently viewing outdated and/or artificial data.
Try the real thing now:
You're in Demo Mode
You currently don't have access this feature, however you can preview the functionality.
This is a fully-functional demo intended to showcase the usefulness of this product using old data.
By proceeding you acknowledge that shown here is old data for demonstration purposes only.
Get the real data
To immediately activate your free account and see the live data you can log in with Facebook or LinkedIn: