SBA Communications Corp - Class A Shares

(

SBAC

)

SBA Communications Corporation, incorporated on December 23, 1996, is an independent owner and operator of wireless communications tower structures, rooftops and other structures that support antennas used for wireless communications. The Company's operating segments include site leasing and site development. The site leasing business includes segments, domestic site leasing and international site leasing. The Company's primary business line is its site leasing business. In its site leasing business, the Company leases antenna space to wireless service providers on towers that it owns or operates, and manages rooftop and tower sites for property owners under various contractual arrangements. The Company owns approximately 25,460 towers. The Company also manages or leases approximately 5,500 actual or potential towers. The Company's other business line is its site development business, through which it assists wireless service providers in developing and maintaining their own wireless service networks. The Company's principal operations are in the United States and its territories. In addition, it owns and operates towers in Canada, Central America and South America.

Site Leasing Services

The primary focus of the Company is the leasing of antenna space on its multi-tenant towers to a range of wireless service providers under long-term lease contracts in the United States, Canada, Central America and South America. The Company has over 15,780 sites in the United States. In the United States, wireless service providers enter into tenant leases with the Company, each of which relates to the lease or use of space at an individual tower. Its tenant leases in the United States are generally for an initial term of 5 to 10 years. The Company owns approximately 9,690 towers in its international markets, including Brazil, Canada, Costa Rica, Ecuador, El Salvador, Guatemala, Nicaragua and Panama. The Company expands its tower portfolio, both domestically and internationally, through the acquisition of towers from third parties and the construction of new tower structures. The Company focuses on growing its international site leasing business through the acquisition and development of towers.

Site Development Services

The site development business, which is conducted only in the United States, keeps in close contact with the wireless service providers that provide site leasing services for the Company, such as antenna and equipment installation. The Company's site development services include network pre-design; site audits; identification of potential locations for towers and antennas; obtaining zoning approvals and permits; tower and related site construction; antenna installation, and radio equipment installation, commissioning, and maintenance. The Company provides site development services on a local basis, through regional, territory and project offices. The regional offices are responsible for the Company's site development operations, including hiring employees and opening or closing project offices, and a portion of the sales in such area.

The Company competes with American Tower Corporation and Crown Castle International.
Fundamentals
🇺🇸

United States

$294.61 yesterday's close
113m

$33.3bn

0
Optimized Dividends
52 Week High

0.9%

12 November 2019

52 Week Low

0.0%

15 September 2019

Next Ex-Div-Date Countdown
Annual Dividends
Year
Amount
Change
2006
0.0c
2007
0.0c
0%
2008
0.0c
0%
2009
0.0c
0%
2010
0.0c
0%
2011
0.0c
0%
2012
0.0c
0%
2013
0.0c
0%
2014
0.0c
0%
2015
0.0c
0%
2016
0.0c
0%
2017
0.0c
0%
2018
0.0c
0%
2019
111.0c
100%
2020
Login required
2021
Login required
SBA Communications Corp - Class A Shares optimized dividend - 12 month history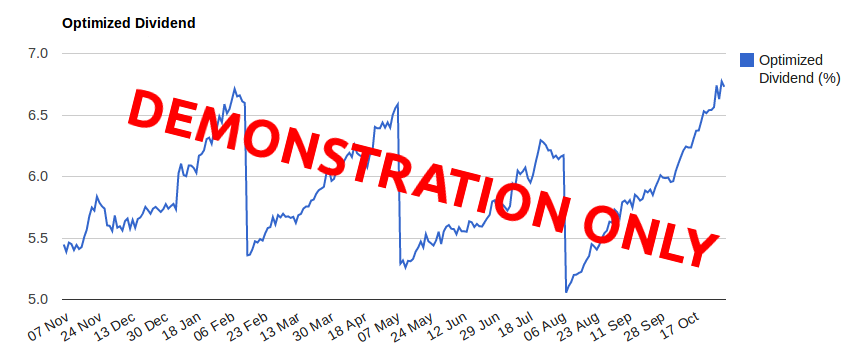 SBA Communications Corp - Class A Shares share price - 12 month history
You're currently viewing outdated and/or artificial data.
Try the real thing now:
You're in Demo Mode
You currently don't have access this feature, however you can preview the functionality.
This is a fully-functional demo intended to showcase the usefulness of this product using old data.
By proceeding you acknowledge that shown here is old data for demonstration purposes only.
Get the real data
To immediately activate your free account and see the live data you can log in with Facebook or LinkedIn: