Verisk Analytics Inc

(

VRSK

)

Verisk Analytics, Inc., incorporated on May 23, 2008, is a data analytics provider serving customers in insurance, natural resources and financial services. The Company operates through two segments: Risk Assessment and Decision Analytics. Its Risk Assessment segment serves its property and casualty (P&C) insurance customers and focuses on prediction of loss, selection and pricing of risk, and compliance with their reporting requirements in each United States state in which they operate. In the Decision Analytics segment, the Company develops predictive models to forecast scenarios and produce both standard and customized analytics that help its customers manage their businesses, including predicting loss, selecting and pricing risk, detecting fraud before and after a loss event, and quantifying losses. The Company offers predictive analytics and decision support solutions to customers in rating, underwriting, claims, catastrophe and weather risk, natural resources intelligence, economic forecasting, and various other fields. In the United States, and around the world, the Company enables customers protect people, property, and financial assets. These solutions take various forms, including data, expert insight, statistical models and analytics all designed to allow its customers to make logical decisions. The Company also works with a range of companies, governments and institutions across the energy, and metals and mining value chains. The Company uses its data assets to develop predictive analytics and transformative models for its customers.

Risk Assessment Segment

The Company's customers include P&C insurance providers in the United States. It provides policy language, prospective loss costs, policy writing rules, and a range of other solutions for lines of insurance. Its policy language, prospective loss cost information and policy writing rules can serve as integrated turnkey insurance programs for its customers. As of December 31, 2016, the Company processed approximately 2,400 regulatory filings and interfaced with state regulators in all 50 states plus the District of Columbia, Guam, Puerto Rico and the Virgin Islands. Its policy language includes standard coverage language, endorsements and policy writing support language that assist its customers in understanding the risks they assume and the coverages they offer. As of December 31, 2016, the Company had more than 120 specialized lawyers and insurance experts reviewing changes in each state's insurance rules and regulations, including an average of more than 16,500 legislative bills, 6,100 regulatory actions and 2,000 court cases per year, to make any required changes to its policy language and rating information.

As of December 31, 2016, the Company aggregated the data, and as a licensed or appointed statistical agent in all 50 states, Puerto Rico, and the District of Columbia, the Company reported those statistics to insurance regulators. The Company provides actuarial services to help its customers analyze and price their risks. Using its database of premium and loss data, its actuaries are able to perform analyses using its predictive models and analytic methods to help its P&C insurance customers with pricing, loss reserving, and marketing. The Company distributes actuarial solutions and offers services to meet its customers' needs. In addition, its actuarial consultants provide customized services for its customers that include assisting them with the development of independent insurance programs, analysis of their own underwriting experience, development of classification systems and rating plans, and a range of other business decisions. The Company also supplies information to a range of customers in other markets, including reinsurance and government agencies.

The Company gathers information on individual properties and communities so that insurers can use its information to evaluate and price personal and commercial property insurance, as well as business owners (BOP), commercial auto and general liability insurance, and workers compensation coverages. Its property-specific rating and underwriting information allows its customers to understand, quantify, underwrite, mitigate and avoid potential loss to commercial properties. As of December 31, 2016, its ProMetrix operating platform contained business and risk information on 26 million entities, loss costs and other vital information on more than 3.7 million commercial buildings in the United States, and also held information on more than 6.5 million individual businesses occupying those buildings. The Company also provides analytic measures for individual communities to mitigate losses. As of December 31, 2016, the Company provided field-verified and validated data on the fire protection services for approximately 46,000 fire response jurisdictions.

Decision Analytics Segment

The Company's solutions are built on data sets, which are dynamic and updated based on new data and events. Its insurance solutions provide its customers analytics in the areas of fraud detection, catastrophe modeling, loss estimation, and underwriting, including emerging areas of interest within these categories. The Company is a provider of fraud-detection tools for the P&C insurance industry. Its system also includes name and address searching to perform searches and manage the overall quality of the matches. The Company has a system used by claims adjusters and investigations professionals to process claims and fight fraud. The Company also provides an expert scoring system that helps distinguish between suspicious and meritorious claims, and products that use link analysis technology to help visualize and fight insurance fraud. The Company also has operations in the field of probabilistic catastrophe modeling used by insurers, reinsurers and financial institutions to manage their catastrophe risk. As of December 31, 2016, the Company developed models, covering natural hazards, including hurricanes, earthquakes, winter storms, tornadoes, hailstorms, and floods, for potential loss events in more than 100 countries, as well as pandemics.

The Company also provides data, analytics and networking products for professionals involved in estimating all phases of building repair and reconstruction. The Company provides solutions for every phase of a building's life, including quantifying the cost of repair or reconstruction of damaged or destroyed buildings; aiding in the settlement of insurance claims, and tracking the process of repair or reconstruction and facilitating communication among insurers, adjusters, contractors, and policyholders. The Company provides a solution that assists contractors and insurance adjusters in estimating repairs using a plan-sketching program. The program allows its customers to sketch floor plans, roof plans and wall-framing plans, and automatically calculates material and labor quantities for the construction of walls, floors, footings, and roofs. The Company also offers its customers access to wholesale and retail price lists, which include structural repair and restoration pricing for economic areas in North America. As of December 31, 2016, its structural repair and cleaning database contained approximately 21,000 unit-cost line items.

The Company is also a provider of solutions for the personal underwriting markets, including homeowners and auto lines. The Company builds and maintains industry-standard tools that assist insurers in underwriting and rating. Its solutions span a range of property/casualty insurance, encompassing personal and commercial lines of coverage that protect private residences, private and commercial vehicles, and businesses. The Company focuses on providing competitive benchmarking, scoring solutions, analytics, and customized services to financial services institutions in the Americas, Europe, the Middle East, Africa and Asia-Pacific. The Company works with its customers to evaluate market and audience selection. The Company offers services and a suite of solutions to a customer base that includes credit and debit card issuers, retail banks and other consumer financial services providers, payment processors, insurance companies, and other industry stakeholders.

The Company is a provider of data analytics for the global energy, chemicals, and metals and mining industries. The Company provides research and consulting services focusing on exploration strategies and screening, asset development and acquisition, commodity markets, and corporate analysis. The Company offers consultancy in the areas of business environment, business improvement, business strategies, commercial advisory, and transaction support. The Company delivers analysis and advice on assets, companies, governments and markets. The Company provides integrated coverage and analysis of relevant commodities across the interconnected global energy sectors. The Company also offer a suite of data and information services that enable compliance with global Environmental Health and Safety (EH&S), requirements related to the safe manufacturing, distribution, transportation, usage, and disposal of chemicals and products.

The Company competes with National Independent Statistical Service, the Independent Statistical Service, Inc., American Association of Insurance Services, Inc., Mutual Services Organization, Overland Solutions, Inc., Regional Reporting, Inc., Deloitte Consulting LLP, Pinnacle Consulting, Willis Towers Watson, Risk Management Solutions, CoreLogic, LexisNexis Risk Solutions, Solera Holdings, Inc., Symbility, IHS Markit, Rystad Energy, Global Data PLC, PIRA Energy Group and CRU Group.
Fundamentals
🇺🇸

United States

$142.10 yesterday's close
164m

$23.3bn

6.2
1
Optimized Dividends
52 Week High

0.99%

11 September 2019

52 Week Low

0.0%

31 July 2019

Next Ex-Div-Date Countdown
Annual Dividends
Year
Amount
Change
2006
0.0c
2007
0.0c
0%
2008
0.0c
0%
2009
0.0c
0%
2010
0.0c
0%
2011
0.0c
0%
2012
0.0c
0%
2013
0.0c
0%
2014
0.0c
0%
2015
0.0c
0%
2016
0.0c
0%
2017
0.0c
0%
2018
0.0c
0%
2019
Login required
2020
Login required
2021
Login required
Verisk Analytics Inc optimized dividend - 12 month history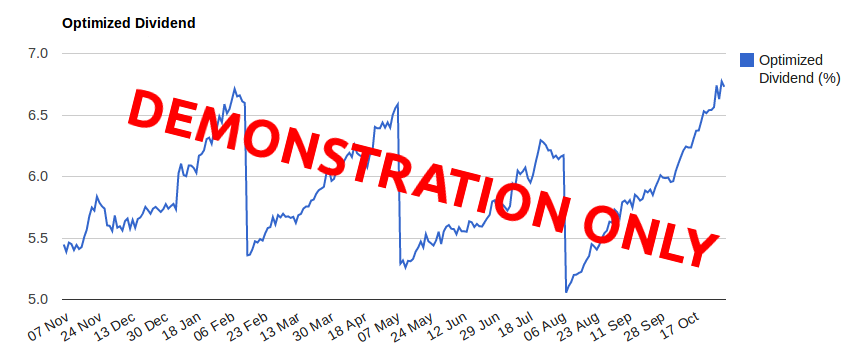 Verisk Analytics Inc share price - 12 month history
You're currently viewing outdated and/or artificial data.
Try the real thing now:
You're in Demo Mode
You currently don't have access this feature, however you can preview the functionality.
This is a fully-functional demo intended to showcase the usefulness of this product using old data.
By proceeding you acknowledge that shown here is old data for demonstration purposes only.
Get the real data
To immediately activate your free account and see the live data you can log in with Facebook or LinkedIn: