Amcor Plc

(

AMCR

)

Amcor plc, incorporated on November 27, 1926, is a packaging company. The Company's segments include Flexibles and Rigid Plastics. The Company offers a range of packaging related products and services, including packaging for beverages, food, healthcare, and personal and home care, tobacco and industrial applications. Its products include packaging for fresh foods, such as meat, fish, bread, produce and dairy and processed foods.

Flexibles

The Flexibles consists of operations that manufacture flexible and film packaging in the food and beverage, medical and pharmaceutical, fresh produce, snack food, personal care and other industries. The Company provides packaging for the food and beverage industry, including confectionery, coffee, fresh food and dairy and packaging for the pharmaceutical and home and personal care.

Rigid Plastics

The Rigid Plastics consists of operations that manufacture rigid plastic containers for a range of predominantly beverage and food products, including carbonated soft drinks, water, juices, sports drinks, milk-based beverages, spirits and beer, sauces, dressings, spreads and personal care item and plastic caps for a variety of applications. The Company's Rigid Plastics business manufactures polyethylene terephthalate (PET) containers, supplying consumer product and fast-moving consumer goods (FMCG) companies.
Fundamentals
🇺🇸

United States

$10.18 yesterday's close
1620m

$16.5bn

0
Optimized Dividends
52 Week High

8.41%

21 August 2019

52 Week Low

0.0%

14 July 2019

Next Ex-Div-Date Countdown
Annual Dividends
Year
Amount
Change
2006
0.0c
2007
0.0c
0%
2008
0.0c
0%
2009
0.0c
0%
2010
0.0c
0%
2011
0.0c
0%
2012
0.0c
0%
2013
0.0c
0%
2014
0.0c
0%
2015
0.0c
0%
2016
0.0c
0%
2017
0.0c
0%
2018
0.0c
0%
2019
47.5c
100%
2020
Login required
2021
Login required
Amcor Plc optimized dividend - 12 month history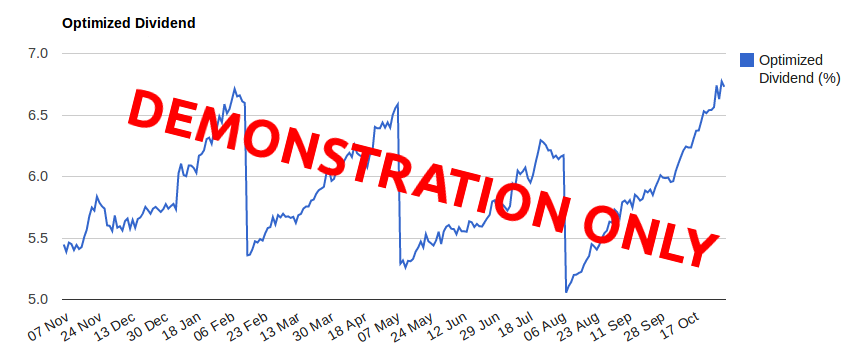 Amcor Plc share price - 12 month history
You're currently viewing outdated and/or artificial data.
Try the real thing now:
You're in Demo Mode
You currently don't have access this feature, however you can preview the functionality.
This is a fully-functional demo intended to showcase the usefulness of this product using old data.
By proceeding you acknowledge that shown here is old data for demonstration purposes only.
Get the real data
To immediately activate your free account and see the live data you can log in with Facebook or LinkedIn: