Corio

(

CORA

)

The company is a large listed property investment company with a focus on retail in Europe. Their portfolio of €6.5 billion consists of 83% of shopping centres in The Netherlands, France, Italy, Spain and Turkey. The company also manages its own shopping centres.

NOTE: Klépierre and Corio have merged on March 31, 2015
Fundamentals
🇳🇱

Netherlands

€53.10 Monday's close
96m

€5.1bn

1.0
0
Optimized Dividends
52 Week High

0.0%

52 Week Low

0.0%

Next Ex-Div-Date Countdown
Annual Dividends
| Year | Amount | Change |
| --- | --- | --- |
| 2006 | 253.0¢ | |
| 2007 | 260.0¢ | 2.8% |
| 2008 | 264.0¢ | 1.5% |
| 2009 | 265.0¢ | 0.4% |
| 2010 | 269.0¢ | 1.5% |
| 2011 | 276.0¢ | 2.6% |
| 2012 | 276.0¢ | 0% |
| 2013 | 294.0¢ | 6.5% |
| 2014 | 103.0¢ | (65.0%) |
Dividends
| Ex-Div Date | Pay Date | Year | Type | Frequency | Status | Amount |
| --- | --- | --- | --- | --- | --- | --- |
| 03 May 2010 | 20 May 2010 | 2009 | Final | Annually | Paid | 265¢ |
| 02 May 2011 | 19 May 2011 | 2010 | Final | Annually | Paid | 269¢ |
| 14 May 2012 | 23 May 2012 | 2011 | Final | Annually | Paid | 276¢ |
| 22 Apr 2013 | 03 Jun 2013 | 2012 | Final | Annually | Paid | 276¢ |
| 22 Apr 2014 | 23 Apr 2014 | 2013 | Final | Annually | Paid | 294¢ |
| 08 Jan 2015 | 12 Jan 2015 | 2014 | Final | Annually | Paid | 103¢ |
Corio optimized dividend - 12 month history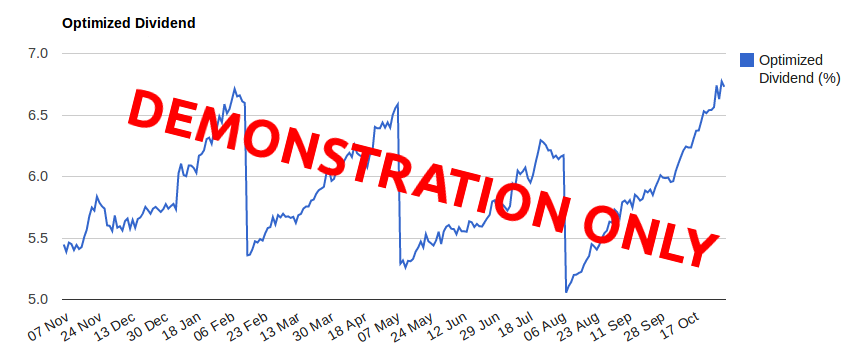 Corio share price - 12 month history
You're currently viewing outdated and/or artificial data.
Try the real thing now:
You're in Demo Mode
You currently don't have access this feature, however you can preview the functionality.
This is a fully-functional demo intended to showcase the usefulness of this product using old data.
By proceeding you acknowledge that shown here is old data for demonstration purposes only.
Get the real data
To immediately activate your free account and see the live data you can log in with Facebook or LinkedIn: