Tenaris S.A.

(

TEN

)

Tenaris S.A., incorporated on January 9, 2002, is a holding company, which is a steel producer with production facilities in Mexico, Argentina, Colombia, United States and Guatemala. The Company supplies round steel bars and flat steel products for its pipes business. The Company operates through Tubes business segment. The Tubes segment includes the production and sale of both seamless and welded steel tubular products, and related services primarily for the oil and gas industry, principally oil country tubular goods (OCTG) used in drilling operations, and for other industrial applications with production processes that include in the transformation of steel into tubular products. The Company operates in geographical areas, which include North America, South America, Europe, the Middle East, Africa, and Far East and Oceania.

The Company's products and services include OCTG, Premium Connections, Rig Direct, Offshore Line Pipe, Onshore Line Pipe, Hydrocarbon Processing, Power Generation, Sucker Rods, Coiled Tubing, Industrial and Mechanical, and Automotive. The Company supplies a range of casing and tubing, drill pipe, premium connections, pipe accessories, sucker rods and coiled tubing for use in all types of oil and gas drilling and well completion activities. Its Premium Connections include Weld-on Connectors, Blue Series, Wedge Series 500, Wedge Series 600, Legacy Series, TenarisXP Series and Dopeless technology. The RIG DIRECT offers Pipe Management Services, Technical Consulting Services, Field Services and Rig Direct Academy.

The Company designs and manufactures pipe products for offshore projects. Its offerings include export lines and flowlines, bends, corrosion resistant alloys (clad, lined and solid), coiled line pipe, umbilical tubing and coated pipes. The Company provides both energy companies and sub-sea manufacturers with tubular components to support sea-floor applications that rely on environments, remote sites or host facility for utility and/or well control services. Its Offshore Line Pipe includes Risers, such as Choke and Kill, Coiled Line Pipe, Umbilical Tubing, Export Lines-FlowLines, Bends, Buckle Arrestors and Mooring, and Coating, such as Track Record. Its services include Laser Ends Measurement System, Anode and Anode Pads Installation, and Double Jointing. The Company delivers a range of seamless and welded tubes for onshore line pipe. The Company provides a range of seamless steel tubes and pipes for refineries, petrochemical and gas-processing plants. For coal and gas-fired power stations, it offers a range of tubes and pipes in carbon, special alloy and stainless steels, used for coal-fired boilers and heat recovery steam generators.
Fundamentals
🇮🇹

Italy

€9.90 today's close
1180m

€11.7bn

1.8
1
Optimized Dividends
52 Week High

5.2%

13 May 2019

52 Week Low

2.61%

21 May 2019

Next Ex-Div-Date Countdown
Annual Dividends
Year
Amount
Change
2006
0.0¢
2007
0.0¢
0%
2008
0.0¢
0%
2009
0.0¢
0%
2010
0.0¢
0%
2011
0.0¢
0%
2012
33.24¢
100%
2013
31.6119¢
(4.9%)
2014
39.078¢
23.6%
2015
41.0165¢
5.0%
2016
37.343¢
(9.0%)
2017
34.835¢
(6.7%)
2018
36.5237¢
4.8%
2019
Login required
2020
Login required
2021
Login required
Dividends
Ex-Div Date
Pay Date
Year
Type
Frequency
Status
Amount
19 Nov 2012
23 Nov 2012
2012
Interim
Semiannually
Paid
10.026¢

(13c)

20 May 2013
23 May 2013
2012
Final
Semiannually
Paid
23.214¢

(30c)

18 Nov 2013
21 Nov 2013
2013
Interim
Semiannually
Paid
9.644¢

(13c)

19 May 2014
22 May 2014
2013
Final
Semiannually
Paid
21.968¢

(30c)

24 Nov 2014
27 Nov 2014
2014
Interim
Semiannually
Paid
12.035¢

(15c)

18 May 2015
20 May 2015
2014
Final
Semiannually
Paid
27.043¢

(30c)

23 Nov 2015
25 Nov 2015
2015
Interim
Semiannually
Paid
14.125¢

(15c)

23 May 2016
25 May 2016
2015
Final
Semiannually
Paid
26.892¢

(30c)

21 Nov 2016
23 Nov 2016
2016
Interim
Semiannually
Paid
12.328¢

(13c)

22 May 2017
24 May 2017
2016
Final
Semiannually
Paid
25.015¢

(28c)

20 Nov 2017
22 Nov 2017
2017
Interim
Semiannually
Paid
11.094¢

(13c)

21 May 2018
23 May 2018
2017
Final
Semiannually
Paid
23.741¢

(28c)

19 Nov 2018
21 Nov 2018
2018
Interim
Semiannually
Paid
11.431¢

(13c)

20 May 2019
22 May 2019
2018
Final
Semiannually
Paid
25.093¢

(28c)

Login
Login
2019
Interim
Semiannually
Declared
Login
Login
Login
2019
Final
Semiannually
Forecast
Login
Login
Login
2020
Interim
Semiannually
Forecast
Login
Login
Login
2020
Final
Semiannually
Forecast
Login
Login
Login
2021
Interim
Semiannually
Forecast
Login
Login
Login
2021
Final
Semiannually
Forecast
Login
Tenaris S.A. optimized dividend - 12 month history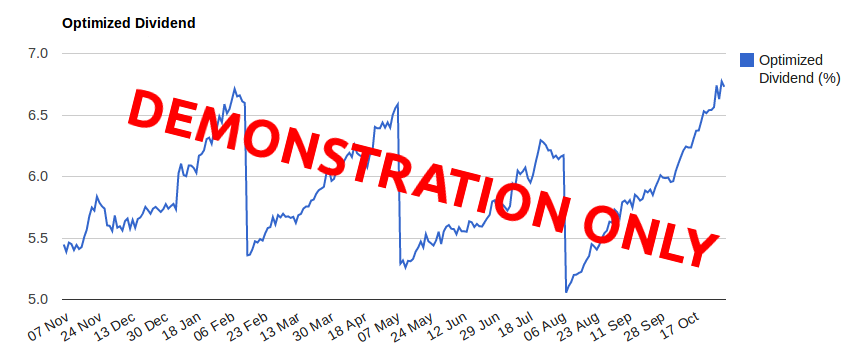 Tenaris S.A. share price - 12 month history
You're currently viewing outdated and/or artificial data.
Try the real thing now:
You're in Demo Mode
You currently don't have access this feature, however you can preview the functionality.
This is a fully-functional demo intended to showcase the usefulness of this product using old data.
By proceeding you acknowledge that shown here is old data for demonstration purposes only.
Get the real data
To immediately activate your free account and see the live data you can log in with Facebook or LinkedIn: