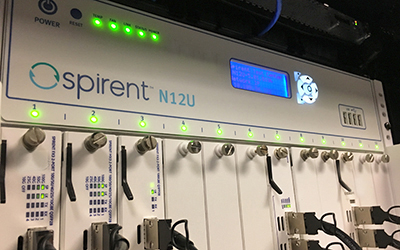 The Spirent Board is recommending the payment of a final dividend for 2019 of 3.45 cents (2.70 pence) per share which, together with the interim dividend of 1.94 cents (1.59 pence) per share paid in September 2019, brings the full year dividend to 5.39 cents (4.29 pence) per share, a dividend cover of 2.5 times adjusted earnings. This is a 20 per cent increase compared to the full year dividend for 2018. In sterling terms this represents an increase of 25 per cent.
Subject to approval by shareholders at the Annual General Meeting on 29 April 2020, the final dividend will be paid on 1 May 2020 to shareholders on the register at 13 March 2020. Payment to ADR holders will be made on 8 May 2020. In total the payment of the final dividend for 2019 will consume approximately $21 million of cash.
Other financial highlights include:
Order intake was up 13.2 per cent and benefited from an increased level of multi-year support contract wins, with 24 per cent of the closing orderbook for delivery in more than 12 months, compared to 17 per cent at the end of last year, which improves visibility of future revenue.
Revenue up 5.6 per cent, driven by demand for 400G high-speed Ethernet and a higher win rate with US defence contractors for GNSS positioning products.
Adjusted operating profit increased by 20 per cent, with an improved operating margin of 18.4 per cent.
Adjusted basic EPS up 23 per cent to 13.40 cents.
Cash closed at $183.2 million, following another year of highly effective working capital management.