Verbund AG

(

VER

)

VERBUND AG, incorporated in 1947, is an electricity company and a producer of electricity from hydropower in Europe. The Company's segments include Renewable generation, Sales, Grid and All other segments. The Company, through its subsidiaries and partners, covers all sectors of energy supply, from the production and transportation of electricity through international sales and marketing.

Renewable generation

Renewable generation segment includes hydropower and wind generation technologies. The Company's electricity from hydropower came from approximately 90 run-of-river power plants and 20 storage power plants. The Company also holds purchase rights to over 12 run-of-river power plants owned by Ennskraftwerke AG. Its power plant projects include Gries run-of-river power plant and Gemeinschaftskraftwerk Inn (GKI). With wind power plants in Austria, Germany and Romania, the Company has approximately 420 megawatts (MW) of installed capacity from wind power at its disposal in three countries. Its wind power plants are focused on supplying electricity to over 280,000 households.

Sales

The Sales segment combines all of the Company's trading and sales activities. Through its trading in electricity, gas, guarantees of origin, carbon dioxide (CO2) certificates and transport capacity, the Company has a presence in the over-the-counter (OTC) markets and in the exchange markets in Europe. The focus of the Company's electricity trading is on optimizing utilization of its own power plants, achieving the possible results from marketing of its own generation and from optimizing electricity purchasing, as well as securing prices in sales. The Company assists customers with marketing of their renewable energy facilities or offers them products to reduce their risk exposure arising from balancing energy. The markets of the Company's sales activities include Austria and Germany. The Company supplies the household/agriculture and commercial segment in Austria and Germany with electricity generated exclusively from hydropower. Its customers primarily include European wholesale partners, other energy trading companies, resellers and municipal utilities. Its customer portfolio also comprises grid and power plant operators and producers of renewable energy, particularly in the wind, solar power and small-scale hydropower fields. The Company, through VERBUND Trading GmbH, analyzes the trend in the fundamentals and the climate in the energy market.

The Company's product portfolio includes conventional trading in emission rights and guarantees of origin (green electricity). It provides partners with energy market capability in the form of different products and services. These include stock market access to the intraday, spot and futures markets, forecasting services, management of balancing groups, integrated portfolio management, regulatory services and entire packages for the traction current segment. In the energy services segment, the Company has developed the order management system (OMS) for Web-based communication with corporate customers. OMS allows the Company's customers to position electricity or gas products online and follow their status up until fulfilment in real time.

Grid

Austrian Power Grid AG (APG) is the Company's independent grid subsidiary. It operates the supraregional electricity transmission network in Austria. With its line connections to neighboring countries, it creates the means for connecting Austria with the European electricity market.

All other segments

All other segments includes the Energy services, Thermal generation, Services and Equity interests segments. The Company's new services for the electricity market of the future are reported under the Energy services segment. Electricity and heat generation from coal and gas are reported under the Thermal generation segment. The primarily intra-group business activities of VERBUND Services GmbH are reported under the Services segment. Interests accounted for using the equity method, which have not been allocated to any other segment are reported under the Equity interests segment. Its VERBUND Solutions GmbH develops products tailored to retail, commercial and industrial customers. The range of services extends from convenience services across decentralized plants for generating and storing energy to energy optimization. Its subsidiary, SOLAVOLTA Energie-und Umwelttechnik GmbH, is a full-service provider for own-use photovoltaic installations. The VERBUND-Eco-Home smart home solution is specialized in energy applications. SMATRICS GmbH & Co KG, the Company's electromobility subsidiary, operates Austria's nationwide charging network. The Company operates two thermal power plants at the Mellach site with maximum electrical capacity, amounting to a total of approximately 1,090 MegaWatts.
Fundamentals
🇦🇹

Austria

€45.36 yesterday's close
347m

€15.8bn

0
Optimized Dividends
52 Week High

1.17%

10 October 2019

52 Week Low

0.0%

21 November 2019

Next Ex-Div-Date Countdown
Annual Dividends
Year
Amount
Change
2006
0.0¢
2007
0.0¢
0%
2008
0.0¢
0%
2009
0.0¢
0%
2010
0.0¢
0%
2011
0.0¢
0%
2012
60.0¢
100%
2013
100.0¢
66.7%
2014
29.0¢
(71.0%)
2015
35.0¢
20.7%
2016
29.0¢
(17.1%)
2017
42.0¢
44.8%
2018
42.0¢
0%
2019
Login required
2020
Login required
Dividends
| Ex-Div Date | Pay Date | Year | Type | Frequency | Status | Amount |
| --- | --- | --- | --- | --- | --- | --- |
| 24 Apr 2013 | 07 May 2013 | 2012 | Final | Annually | Paid | 60¢ |
| 16 Apr 2014 | 29 Apr 2014 | 2013 | Final | Annually | Paid | 100¢ |
| 29 Apr 2015 | 12 May 2015 | 2014 | Final | Annually | Paid | 29¢ |
| 20 Apr 2016 | 03 May 2016 | 2015 | Final | Annually | Paid | 35¢ |
| 12 Apr 2017 | 25 Apr 2017 | 2016 | Final | Annually | Paid | 29¢ |
| 30 Apr 2018 | 11 May 2018 | 2017 | Final | Annually | Paid | 42¢ |
| 07 May 2019 | 20 May 2019 | 2018 | Final | Annually | Paid | 42¢ |
| Login | Login | 2019 | Final | Annually | Forecast | Login |
| Login | Login | 2020 | Final | Annually | Forecast | Login |
Verbund AG optimized dividend - 12 month history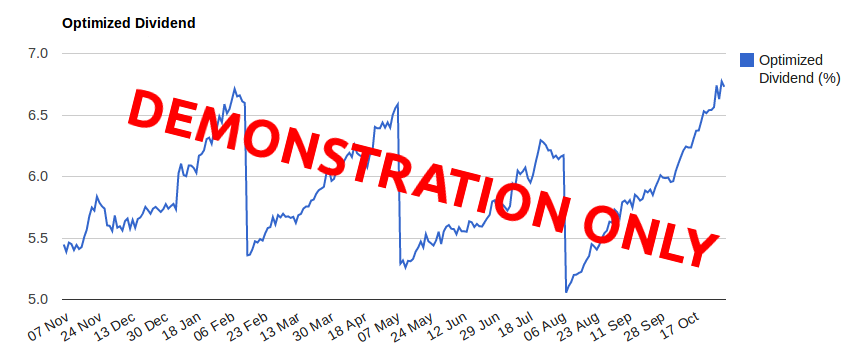 Verbund AG share price - 12 month history
You're currently viewing outdated and/or artificial data.
Try the real thing now:
You're in Demo Mode
You currently don't have access this feature, however you can preview the functionality.
This is a fully-functional demo intended to showcase the usefulness of this product using old data.
By proceeding you acknowledge that shown here is old data for demonstration purposes only.
Get the real data
To immediately activate your free account and see the live data you can log in with Facebook or LinkedIn: